Discussion Starter
·
#1
·
Well, it's an achievement on it's own, I think?
Hi all,
I'm a graduating sound engineer student, living at home with dad, and I'm building a home theater!
Well, rebuilding, actually. A couple of years ago I bought a BenQ projector, nothing to special, but coming from a 19" PC screen, going to a 70+ inch screen, was quite the change...
Now a good month ago, that BenQ's DLP chip was starting to show alot of dead pixels, like a cluster on the upper right corner. At first, they went away after a couple of minutes, but gradually became worse.
Now, I've made a next step, and bought a new Optoma Hd131xe projector, and it's time that the theater would step up a little...
Here is a photo of the current situation:
(Sorry for the bad pic, it was taken right before "demolition", with my cellphone)
As you can notice, this is where the title comes in. The room is an attic, all the walls are sloped (roof). The entire room is about 4m wide, and 5,7m long. The actual HT area is aboud 3,2m wide, and 3,5m long. Max height is something of 2,2m.
Seating is a DIY bench, made out of big foam cushions from a caravan we don't use anymore. It's pretty comfortable, it's also the only thing that works, because anything higher is well, too high.
Speakers are modified New Large advents, the center is a wharfedale diamond 10. I have Diamond 10.2 main speakers too, but after the modifications, I actually prefer the advents over the wharfedales. (the advents are incredibly fun speakers, and for editing and mixing, I prefer them too the wharfedales too.)
I run the amps straight from my soundcard (a modified digidesign Digi-002), and use a standalone dolby/dts decoder for decoding surround from the PS3. This is fed to a Tascam M-308 mixing console, which serves as my preamp/volume control. This might seem a weird method, but as this is also my "diy studio", it works pretty comfortable...
over the past years I've been messing around, it started out as a white wall and a pc surround set, added the bench, properly painted the wall, and now I've recently tried to enlarge the screen a little more, and wanted to do a painted MDF screen. Then the projector died.
NOW.
As this is a small (tiny) room, I'm planning on building a 90" DIY AT spandex screen, and black spandex around the rest of the projection wall, where the LR speakers are, as well as the subwoofers. I plan on redoing the entire room, also the not HT part (storage/gear "rack"). There will be new carpet, new paint, finishing everything that hasn't been finished right now. Further sound proofing (I did add adequate isolation when I first "made" the room, there is rockwool everywhere, and structurally, the room is good...
I made a quick sketchup on how I plan the projection wall to be made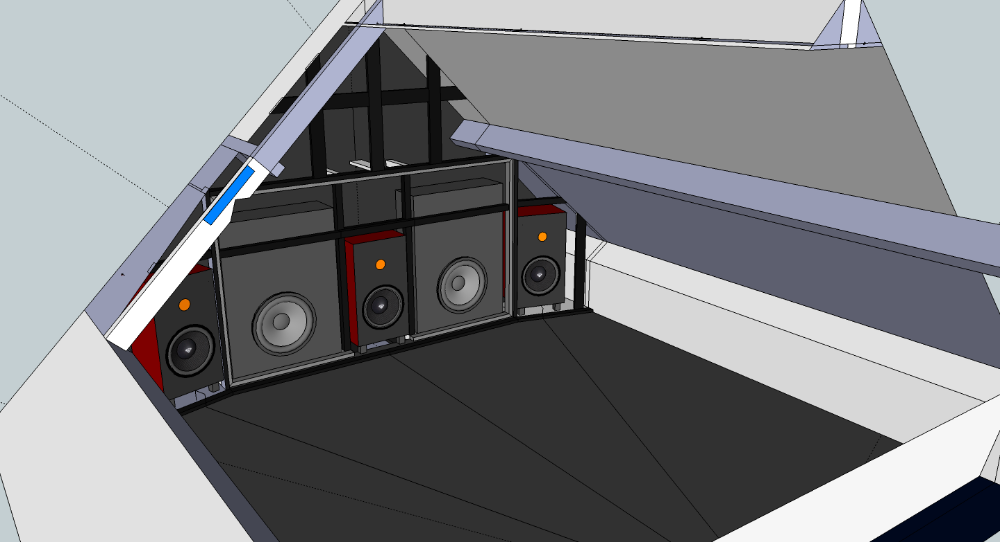 and a mock up with some person-like looking model in it, to show the scale.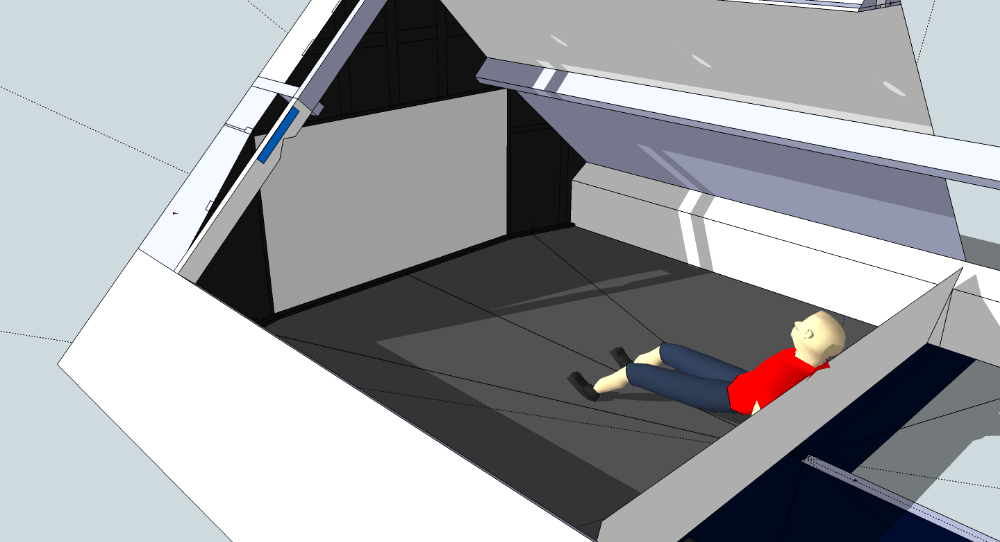 I am still looking for a good color scheme (right now it's white-ish, and black, and some whacky green and yellow stripes on the wall (I don't know what I was thinking then...)
Lightning will also be changed, as of right now it's just 3 bulbs straight to the wire, hanging from the top bar.
I'm still looking for ideas for color schemes, lightning ideas, (screen tips too, I made a 100" spandex screen in the living room now, where the projector currently resides), and I'm fairly happy about that, but I want to know how I can get the most out of it, and what materials are best), and isolation tips. I plan on making some kind of a baffle wall behind the screen (the 2 subs between the LCR speakers are kinda most of the wall anyway), and above the screen will be a big bass trap)
a component list:
New large advent speakers (modified) LCR
2x DIY 12" subs (thinking of going 15" s)
cambridge soundworks rears (4x one pair per side)
Yamaha CR-2020 (mains)
Behringer DEQ2496 (for mains)
Behringer Inuke1000DSP (subs & center)
Behringer EPQ304 (rears)
Tascam M-308 "preamp"
HTPC with XBMC (remote server)
PS3
Digi 002R sound card
DTS/dolby decoder
DIY input switch
Anyhow, thanks for reading, and I hope you'll enjoy the (mini) build...
And Thanks in advance,
Regards,
Bert.