Discussion Starter
•
#1
•
This thread will be a test bed for developing a clone of the S-I-L-V-E-R paint mix that has been promoted on the AVS DIY Screen forum for years. The original silver paint used in their mix is no longer made, and it's replacement silver paint has also been discontinued (or is at least very hard to find) so they are now recommending Liquitex BASICS Silver paint be used (BTW, we were using BASICS Silver for well over a year before AVS
). The base of their mix is Behr Faux Glaze, but in keeping with trying to make our mix components available world-wide we are using Liquitex Matt Medium as a base.
The idea behind SILVER is simple, make a mix that is mostly transparent, but has a small amount of reflective particles in it that will provide added gain as they are laid down in multiple coats of mix. The problem with both S-I-L-V-E-R, and our current clone under test, is that there is almost nothing in the mix to control the sparkle from the mica. Mica not only reflects light (which is good), but also refracts light (which is bad). When light refracts it changes color like a rainbow. Rainbows are pretty to look at in the sky, but I sure don't want my screen to behave like that!
The first clone under test is a mix consisting of 90% LMM (Liquitex Matt Medium) and 10% LBS (Liquitex BASICS Silver). The mix MUST be applied by spraying.
This mix MUST be diluted to spray, in my case I had to add 30% water to get it to spray through my compressor-powered HVLP gun.
Due to the nature of these mixes they should be applied by volume and not by a specific number of coats. For this test I applied 4 fluid ounces (not including the water to thin the mix) to a 4 square foot test panel; this equals 1 fluid ounce per square foot of screen surface. Don't include the water to thin in this calculation since it will evaporate as the screen dries and isn't a permanent part of the mix.
The screen substrate MUST be primed or painted white since it will be visible even after spraying with SILVER.
I learned in the process of doing this test that this mix MUST be stirred very well (I would recommend a mechanical stirring attachment for an electric drill, or perhaps even a kitchen mixer on low) to combine the LBS with the LMM base. If you don't you will end up with flecks of LBS on the screen that may be large enough to look like large reflective flakes.
The final mix should be filtered before spraying.
This mix turned out to be darker than I thought it would be coming in an N8.4. Without adding tint to correct the color it is also a long way from being a neutral gray. So much so that I couldn't recommend this mix be used to paint an actual screen unless your projector has a LOT of color adjustment.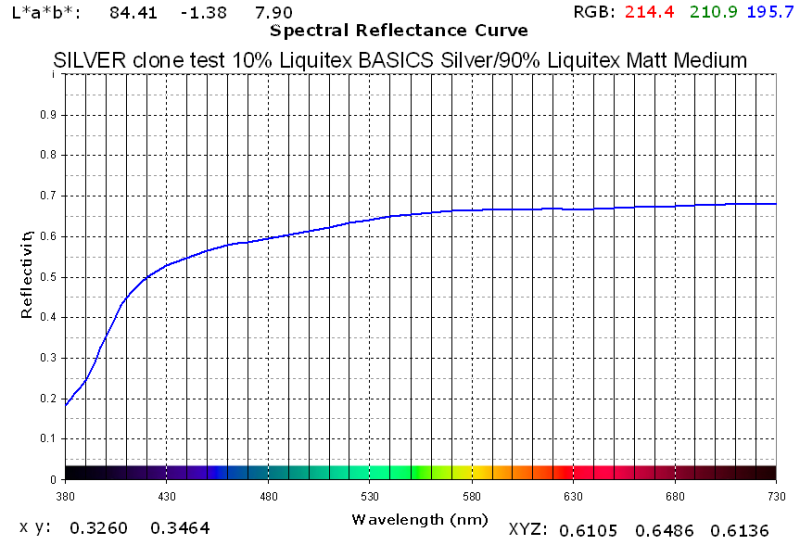 This SILVER clone will be compared to Cream&Sugar™ Ultra (a mix consisting of 50% lightly tinted latex paint and 50% LBS) and to Sherwin-Williams ProClassic and Color To Go paints in 'Extra White' with a satin finish.
In the photos below a U.S. quarter (0.957 inches, 24.31 mm) has been included for a sense of scale.
C&S™ Ultra in existing room light (overhead fluorescent)
[/IMG]
C&S™ Ultra illuminated by a bright L.E.D. flashlight
SILVER clone in existing room light (overhead fluorescent)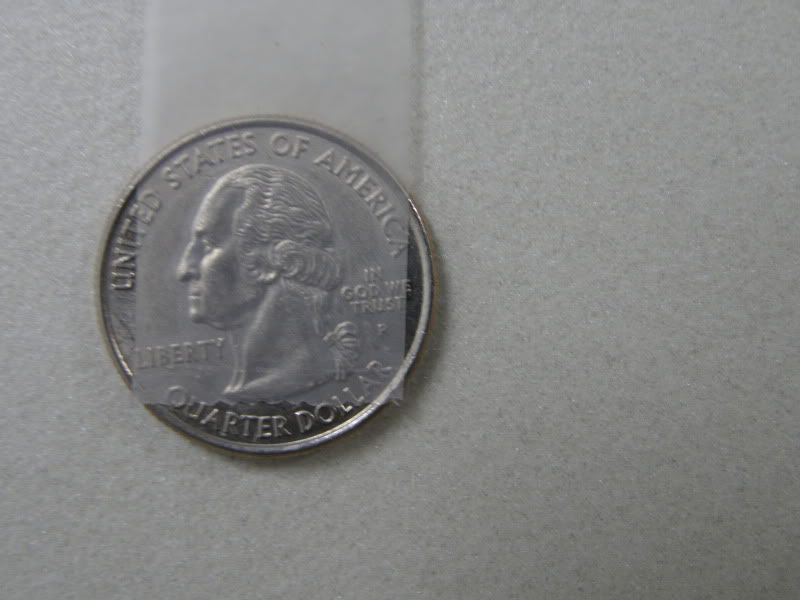 SILVER clone illuminated by a bright L.E.D. flashlight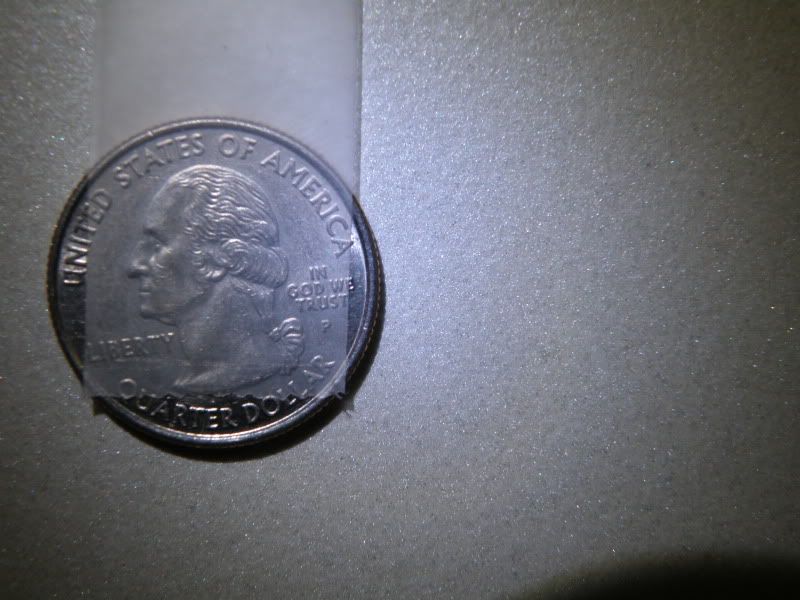 There were no apparent sparkles on the C&S™ Ultra photos, a few can be seen in the SILVER clone in room light and they are VERY apparent in the last photo when a directional light struck it. The SILVER clone also has a mottled appearance which is due to nature of the finish (numerous transparent coats of mix with little pigment in it).
The screen panels from left to right: SW ProClassic 'Extra White' satin, SILVER clone 10/90, C&S™ Ultra, SW Color To Go 'Extra White' satin. SILVER clone 1 day old, others about 1 year old.
Panels under room light
Panels with camera flash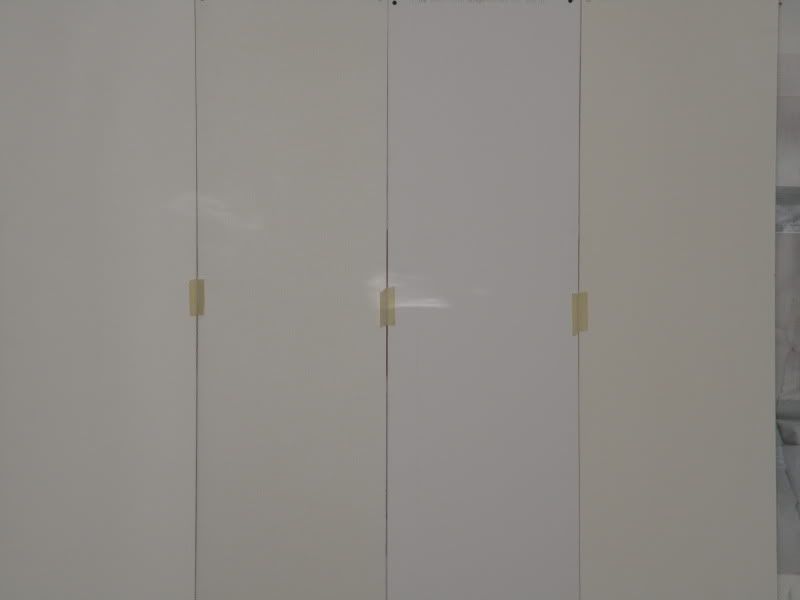 Projector is hitting the screens with 27 fL of brightness and is table mounted.
American flag from DVE calibration DVD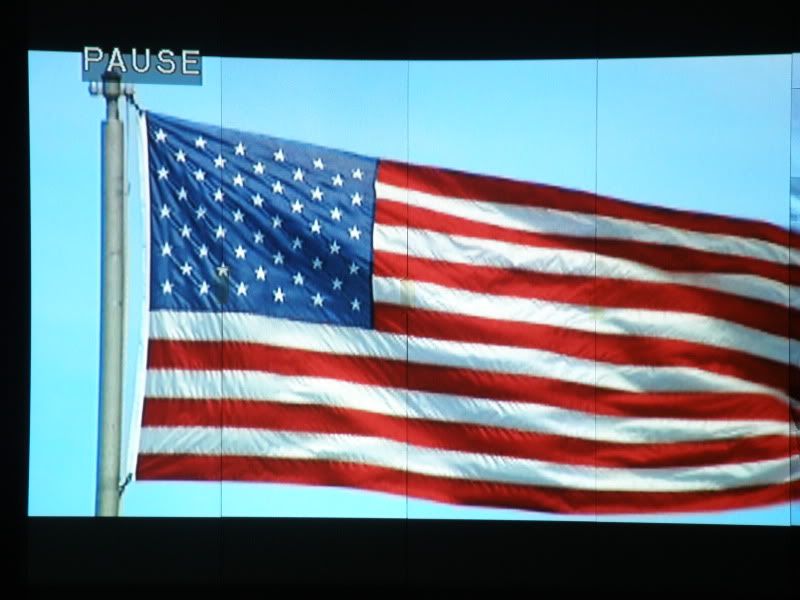 Space shuttle from DVE calibration DVD
Notice how the 2nd and 4th panels have off-color clouds.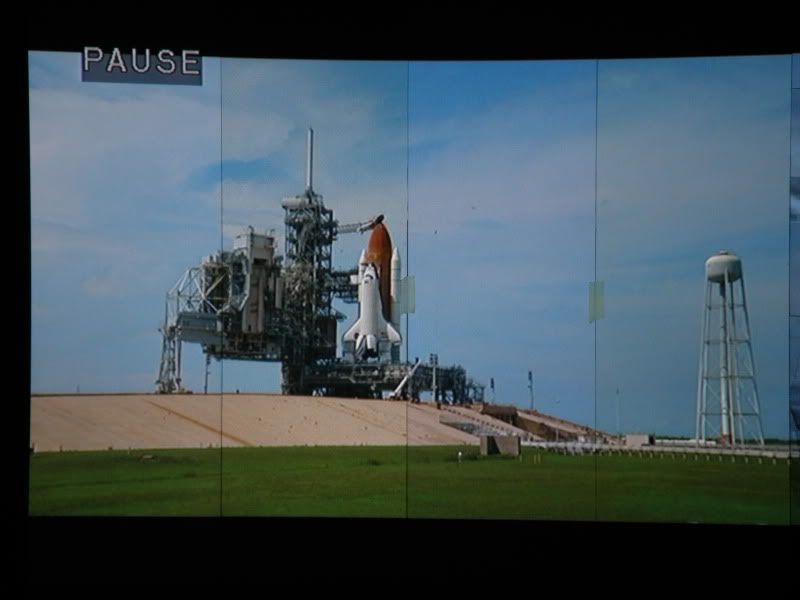 Another space shuttle still from DVE calibration DVD
Space shuttle inorbit from DVE calibration DVD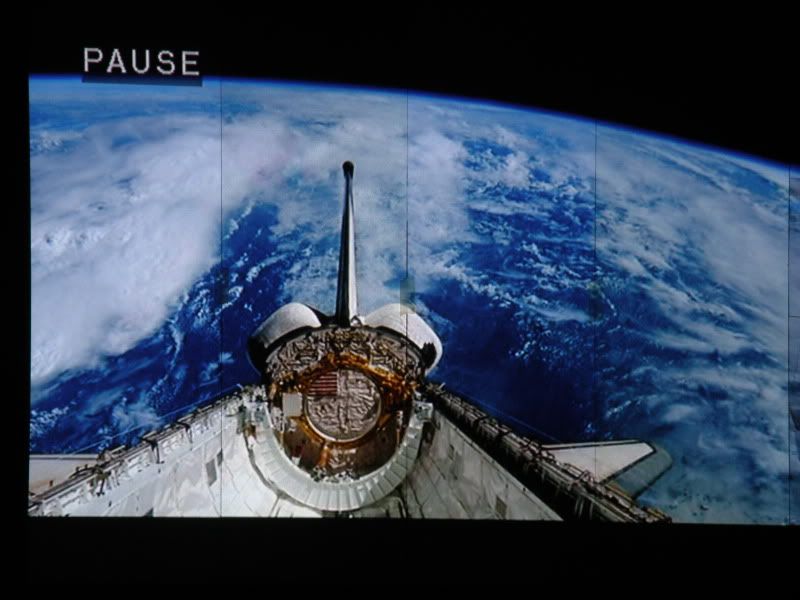 Now to some reference photos. I know they are boring, but they tell you much more than "screenies".
On-Axis 100 IRE white.
The top of the 2nd panel (the SILVER clone) is quite a bit darker than the bottom of that panel. This is due to that panel hot spotting.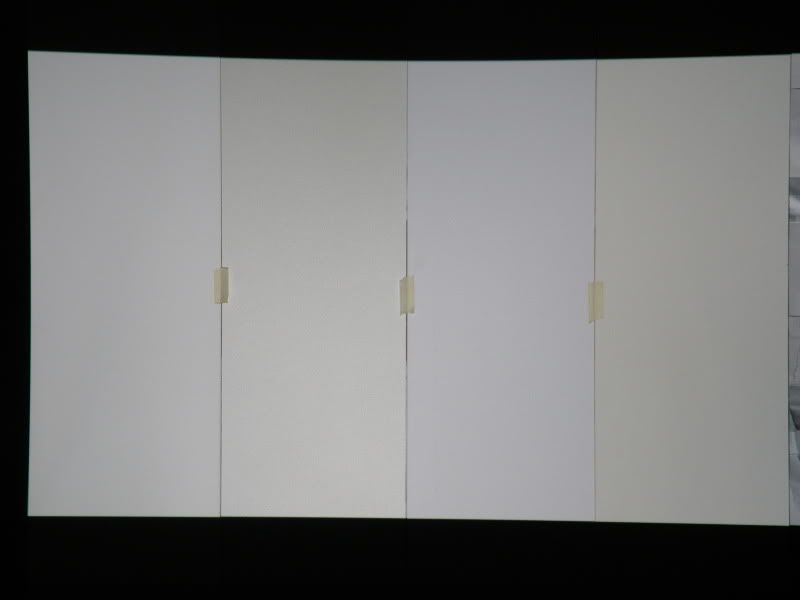 On-Axis Contrast Bars.
On-axis the SILVER clone is a bit brighter than the other panels, but the price paid is hot spotting and off-axis dimming (as will be seen shortly).
On-Axis Color Bars.
While the bottom of the SILVER clone panel (2nd) is a bit brighter than the C&S™ Ultra panel (3rd) the top is darker - again due to hot spotting.
Next photos taken from 17° off-axis. Camera was 16 feet back from the screens and 5 feet off-axis. Off-axis the SILVER clone at it's brightest is only on par with the C&S™ Ultra panel and the top of it is visibly less bright. That is the thing with high gain screens, it usually doesn't take moving far off-axis to lose the brightness gained by going with the high gain screen. You lose the added brightness, but still have to put up with any artifacting introduced by the higher gain.
17° off-axis 100 IRE white.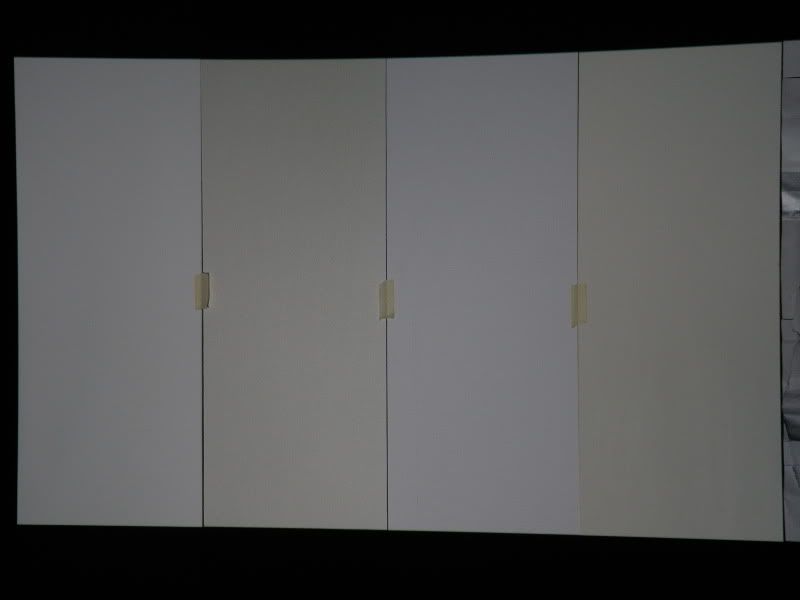 17° off-axis Contrast Bars.
17° off-axis Color Bars.
Next photos 37° off-axis. This viewing angle would probably equate to someone sitting by one of the side walls in the average (if there is such a thing) home theater. The camera was 16 feet back from the screens and 12 feet off-axis. The SILVER clone has lost all the benefits of having a high on-axis gain.
37° off-axis 100 IRE white.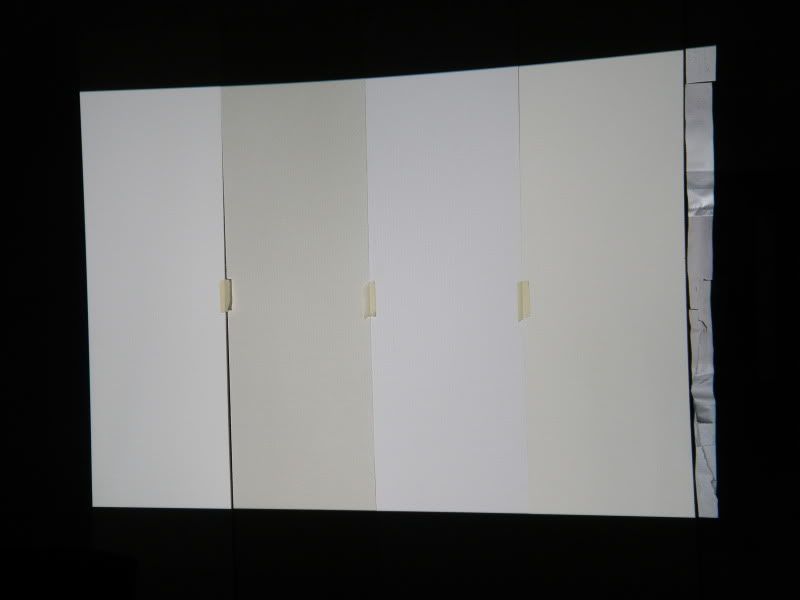 37° off-axis Contrast Bars.
37° off-axis Color Bars.
If the SILVER clone was color-corrected to be neutral it would be even darker since paints are subtractive colors (the only way to decrease a "color push" is to add a complimentary pigment) which would go against the purpose of the mix in the first place (to produce a brighter image than a white screen).
After doing the tests on the Sherwin-Williams paints I learned that SW states that the Color To Go paint is for color testing only and not for use as a permanent top coat finish, I can now see why! The 4th panel in these photos has drifted WAY off color from when it was painted about a year ago.