Discussion Starter
·
#1
·
A few weeks back I started working on a mix called Silver Fire. Silver Fire is a mixture of numerous mica based paints, polyurethane, and a white latex paint. This is my second time mixing up the formula - the first time was one of the original mixes and it had a bad blue/red push. This new mix uses Liquitex artist acrylics. The second time around produced different results from the first via the spectrophotometer. According to the color temp calculated by CalMAN, silver fire comes in 100 points away from D65. But as we've learned over time, this only paints part of the picture for some mixes. The more complicated the application, the more data needed to come to a conclusion. One needs only look at the dnp Supernova review to see what an application that does not have a good spectrophotometer reading can do with a projected image. The Supernova is ISF certified and rightly so. But we're talking about Silver fire. During the process I sampled the base components, the color components, Silver Fire lite (less color component added), and Silver Fire.
Here is the color component
Here is the base
Here is Silver Fire lite
Here is Silver Fire
Here is a reference spectro reading from an X-Rite N5 gray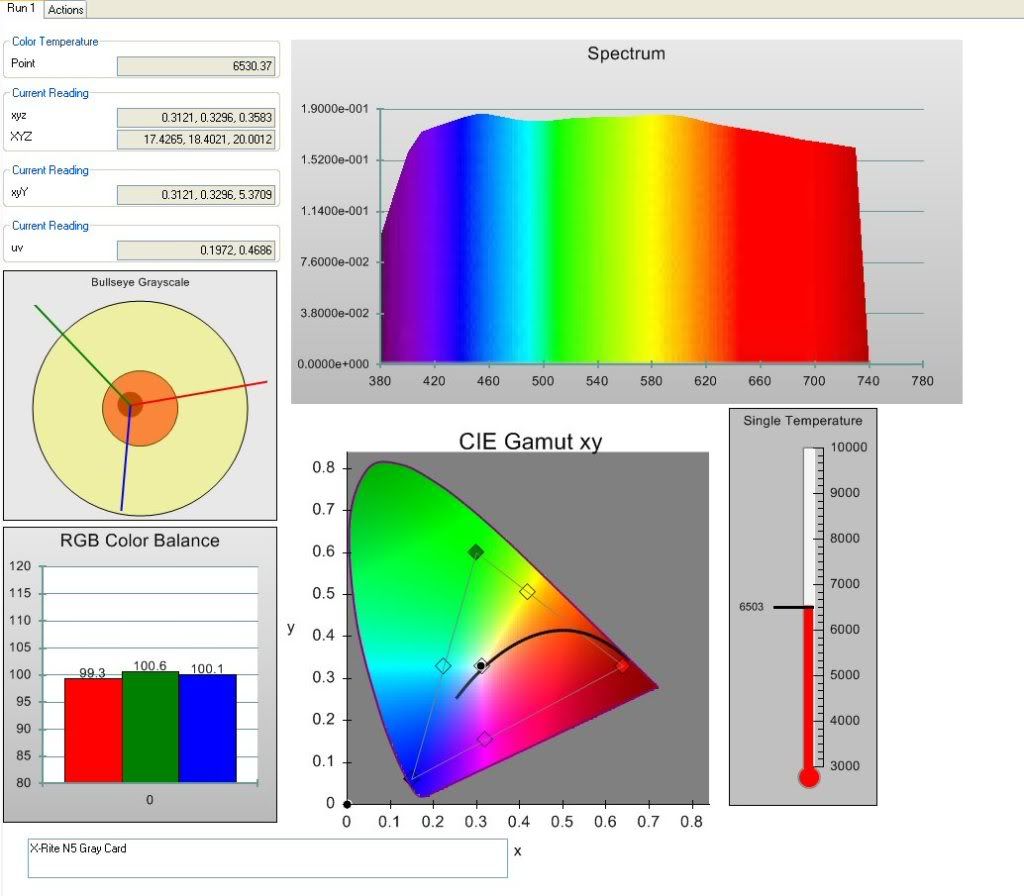 To go along with this I also took calibration readings from my Silver Fire panel. These readings consist of 0-100IRE grayscale images in increments of 10. It also consists of gamut readings which are 75% white, red, green, blue, cyan, magenta, yellow, and 100% white. The software used for both these readings and the spectro readings above is CalMAN Enthusiast. My spectro is an X-Rite i1pro which has been factory calibrated each fall since I've owned it. For the calibration readings, I use a Colormunki Create colorimeter. Supposedly this colorimeter is much better on the lower end than my i1. But I haven't seen enough to be convinced. I do know that it is much faster at getting the readings.
So without further ado, here is the calibration reading from the silver fire panel
For comparison purposes, here is the reference reading directly from the projector (BenQ w5000)
The things that stick out are that it appears to have a red push to it and the CIE chart shows all of the colors pulling towards red. We also went from a spectro reading that was 100 points higher than D65 to an average color point reading of 70 points less.