Hi all,
I've never really though about building my own home sub until the last couple of weeks ( looking at some of the builds here really propelled me in that direction ) The biggest motivator was the voice coil coming apart from the spider in my Sunfire MKII sub..a real downer. I was going to buy another driver, and that got vetoed by my better half, so I thought about sending my current driver out for repair but couldn't decide.
I have a Boston SPG555 car subwoofer in 1cu/ft, 3/4"MDF sealed enclosure, that I built in a hurry without any care other than it was sealed well ( read: it's ugly :dumbcrazy
. This sub was pretty impressive when I had it in my car, it was the best sub that I had owned after owning a multitude of car subs from my younger days..I really did forget just how impressive:R
It will handle 1000w RMS, and as mentioned, fits in a 1 cu/ft sealed box, and has more surface area than a 12" sub.I really wish I had the know-how to use the specs in the manual to custom design a box for this particular build. Since I don't, I though I would experiment with whatever I currently have at my disposal. Here is the sub:
I decided to hook up the Sunfire amp to the Boston sub, I was a little worried at first because of what I'd read about the circuitry in the amp/crossover/voice coil work together utilizing the high back EMF of the Sunfire woofer's monster magnet. The boston has a large neodymium magnet, and so I thought 'why not ?':scratch:
..and I tried it:bigsmile: At first at low to medium volume, and soon enough, I turned it up. I was pretty shocked with the result, it was louder and tighter than the MKII..unfortunately, I now have a few annoying vibrations in my room that this sub brought out:R . In fact, some music that never sounded right with the MKII ( Tupac, some metal music ) all of a sudden sound great, and the speed of a fast kick drum in metal music has never hit so hard and fast as it does now. I really loved my MKII, and didn't want to ever part with it, now I'm rethinking that idea.
Well yesterday, I had the day off and decided to try phase 2 of this experiment. I took the passive radiator out of the Sunfire, and put it on the opposite side of the boston. I was a little worried that this may be taking things too far, because I really don't know anything about designing a sub box, especially one with a round passive radiator on an oval sub:coocoo: ( if somebody is willing to help with this, please post here ). I also lack tools/space to build a decent enclosure.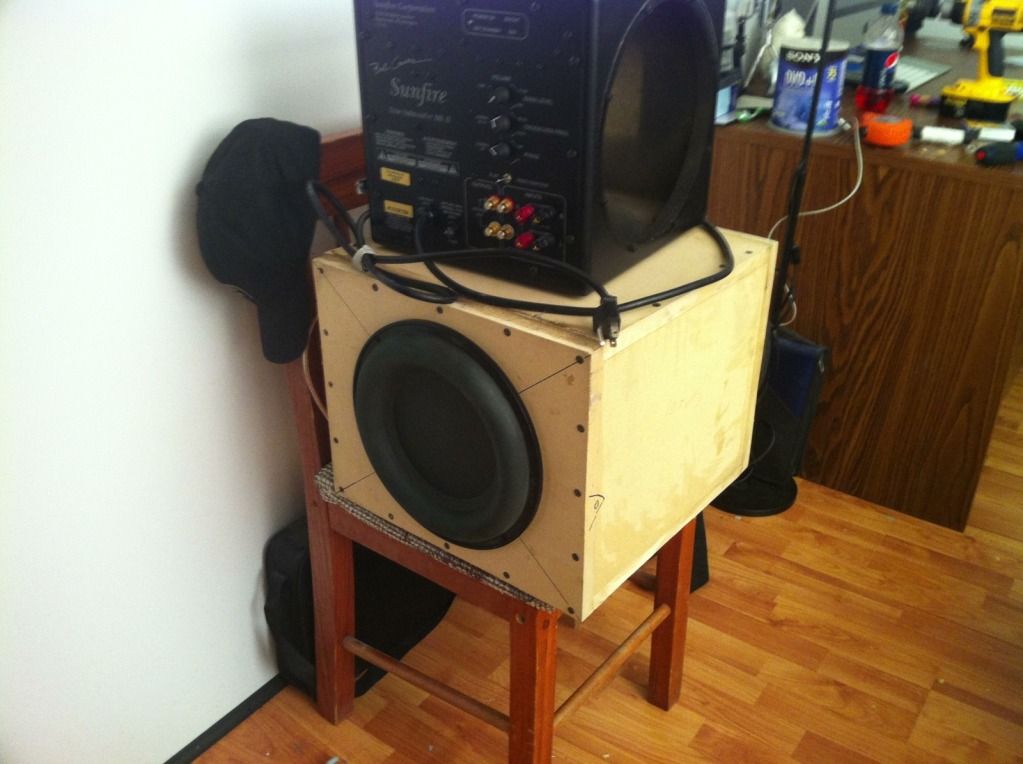 Here's the MKII beside the ugly block: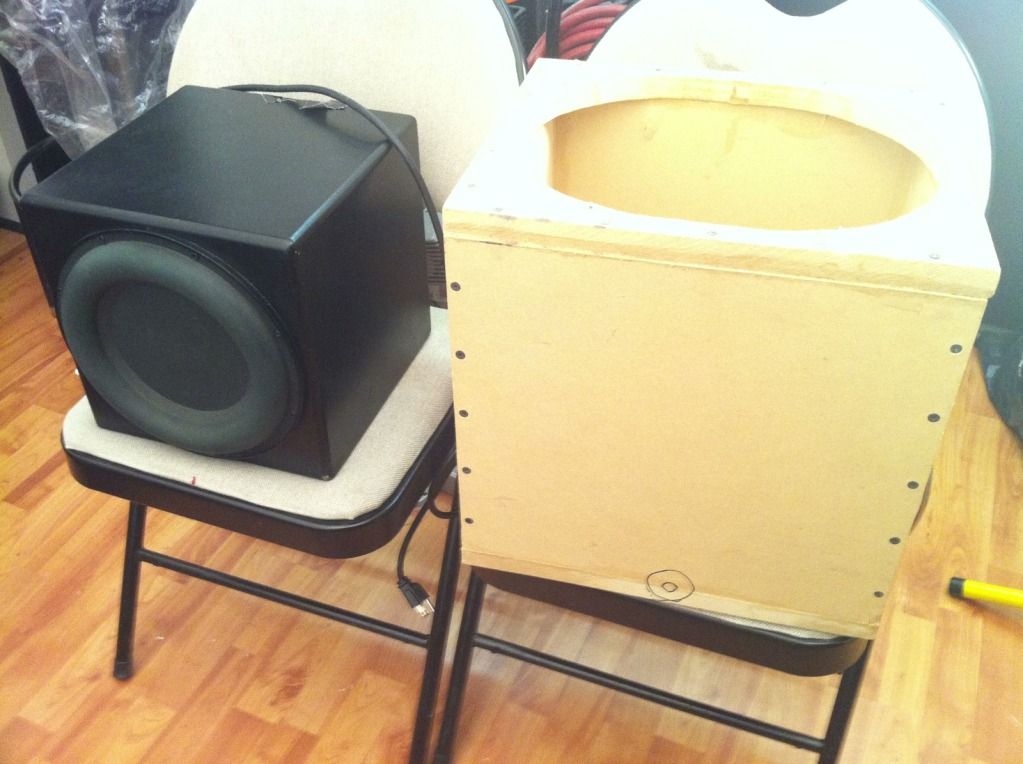 After trying it, it appears to be a good move. I don't have a db meter or test equipment ( yet ), so I used the db meter on my iPhone, and I gained just over 3db on my phone:scratch: It also seems to play lower frequencies louder than just a sealed box( not sure if this box is still considered sealed ? ) Yet it's still tight.
The sub amp volume is turned down lower than before( a couple notches lower than midpoint ) but the thing seems louder than ever before, and my room has less nulls, where before, the bass relied heavily on proper placement because my room has a strange ceiling design. I decided not to fix the Sunfire, and instead build a nice enclosure for my Frankenstein setup instead. The only lingering question, can someone design an enclosure that would better exploit the full potential of my equipment ? I'm sure there is, and I hope they aren't shy about posting, you're help will be appreciated.