Discussion Starter
•
#21
•
DVDO's AVLab TPG 4K Reference Pattern Generator with firmware 01.03.769 has added a very useful feature that is called 'Color Checker'. Using that feature it can provide real-time analysis of digital value for selected pixel from it's HDMI Input.
Here is an example, the 8dr means "8 bit, decimal, RGB" then the values are the RGB values of the pixel that the cursor is pointing to.
Professional & Enthusiast calibrators has find this feature very valuable, to check the accuracy of any player output, testing various colorspace output options etc. using Ted's LightSpace CMS Calibration Disk as a reference to detect digital errors that wrong player settings can introduce.
To help them out checking some patterns of my calibration disk, I will start by giving out the 8bit RGB Triplets of some Color Reproductions Patterns to help them reduce the time it will be required for this test.
I will start with the RGB Triplets of the Advanced Black & White Flashing Bars Pattern, others will follow soon.
Here is a small preview of the Advanced Black & White Flashing Bars Pattern with RGB Triplets per color: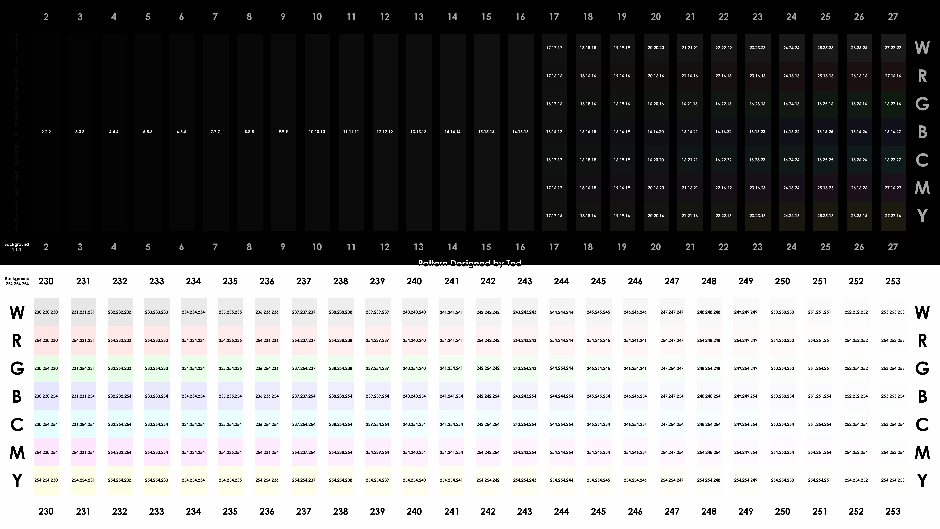 Here is a zoomed version: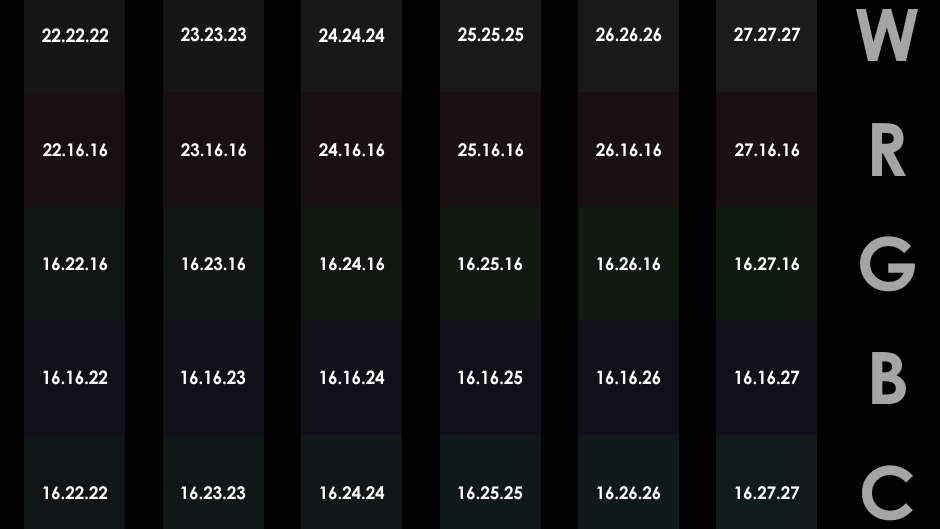 Because the RGB Triplets are looking very small in a 1920x1080 picture, I have re-designed it at 3840x2160 resolution, you can download it from here: Advanced Black & White Flashing Bars Pattern (2160p)
The issue I has thinking about was how to accurately calculate the dE between two RGB Triplet values, to evaluate any digital error.
I asked from Tom Huffman to help me about this (the creator of ChromaPure Calibration Software) and Tom some hours later came with a Tool that you can download it for free, for dE Analysis.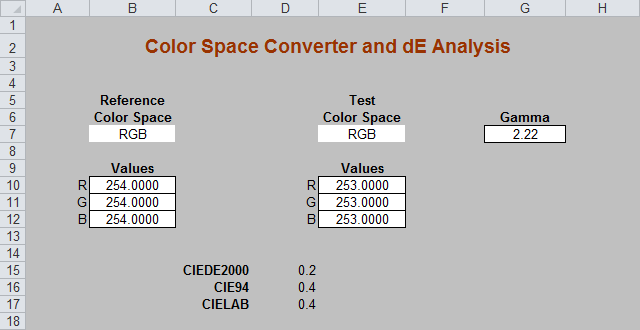 It's the ''Combination Color Format Converter and ΔE Analysis'' Excel Spreadsheet and you can download it from here.
Thanks Tom for your time providing this free tool so quickly after my request for help, while I know that you are so busy to finish ChromaPure 3.0. Thanks.