Discussion Starter
·
#1
·
I started rolling the 1x4 foot test panel at 8PM tonight; that was a mistake, I'm too used to spraying. It turns out I have to wait several hours between coats to roll when I am used to around 10 minutes between coats when spraying!
I chose to use a 3 inch trim roller for several reasons; since I'm only painting a small test panel I didn't want to use a full size roller, this conserved both paint and mimicked using a larger roller on a larger panel thereby letting me see if roller marks would be a problem. The roller seems to be a smaller version of larger "fuzzy" rollers and is not a foam roller.
I have two coats on for tonight and I can tell it would take me ALL DAY to put the whole 5.5 ounces of mix on the panel! I would loosely estimate that one rolled coat is equal to perhaps 2 sprayed coats. The thing is, I don't have to wait so long between sprayed coats because I don't have to worry about lifting the previous coat of paint by it sticking to the roller.
I have already learned a few things. If bubbles are in the rolled coat that do not pop and flow out before the paint dries, the crater formed doesn't have a bright ring around it like mech had with AAA-F, but rather the whole center of the collapsed bubble looks like a mirror! And as above, I can put down a LOT more paint in a given time by spraying.
The mix is BWN8 8:1 using Valspar Ultra Premium Enamel tinted to a N7.9 neutral gray. For this panel I mixed 4 oz. gray with .5 oz. AAA-M and then added 1 oz. distilled water (that's about a 20% dilution). I wish I had thinned it more! I'm getting bubbles! After two coats I still have most of the mix left!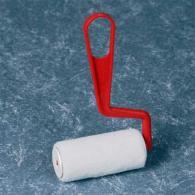 Addendum:
I forget to mention that when I normaly spray a 1x4 foot test panel I use anywhere from 5 to 6 ounces of paint mix (which includes the water I dilute with).