I've been working on my theater for the past six months, and thought I might start a thread here to chronicle the build to date. I have had a thread for some time over at the other forum but I wouldn't mind seeing how things are over here, also.
*** I decided to a a "current progress" picture to my first post ***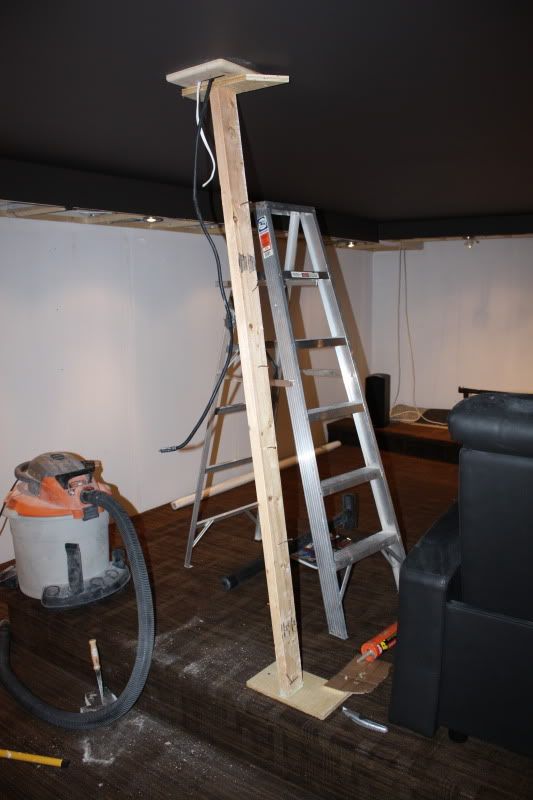 So, here we go. I'm not sure the wife knows what I've gotten her into, but she will soon.
I'd absolutely welcome any comments and unsolicited advice for this project as I've never come close to anything of the scope. I've done plenty of reading here for a number of years but I think until you get your hands dirty it's hard to really visualize the process.
Notes:
1. I plan on doing as much soundproofing as possible: GG, DD, RSIC on the ceiling.
2. Component so far:
- Paradigm Studio 60, Studio CC, Studio ADPs, Studio 40's (rears).
- Onkyo 805
- EasyButton IXL 18", Behringer EP2500, Behringer EQ
- PS3, XBOX360, HTPC
- No Projector selected yet
- Screen will be an AT one in the false wall. Originally I had planned a laminate DIY screen, but I think I am switching this.
I'll add some pictures soon, but I'm hoping that the experts here can help me with some questions before I go to HD tomorrow to take advntage of a sale:
1. Is it easy to frame a double drywall style wall under a beam and amongst the beam support posts?
2. If I am doing DD/GG and weaving the insulation in between the studs, how do I decide what width of insulation I use? My understanding is that Roxul Safe n Sound is the best way to go here?
3. I will framing over the storage area, so do I need a DD/GG wall all along that length? (The North Wall).
4. Should I just get a standard 6'8" door? I have a full eight feet under the joists and 7'3" under the beam in which I might integrate the on the south side of the theater area.
5. Any reason to not use Dri Core? I'm willing to give up the 7/8" for a comfortable floor.
I'm sure I'll have a ton more questions!