I just looked over that thread and a few things stand out to me.

1) This guy was apparently lacking output from the LLT to begin with. I can't say that is normal - most don't approach the limits of a high excursion 18" LLT....about 115db in room down to the low teens.

2) If he was lacking output to begin with and getting compression, then a sub that has more headroom in the 25hz+ department will sound better. That seems to be what happened.

3) There is simply no way the horn digs anywhere near as deep as the LLT, not by a longshot, not even close. His in room measurement that goes down to 2hz is not legit, he must have improper mic calibration settings. That horn subwoofer enclosure is a mere fraction of the size it would need to be to dig as deep as his LLT.


I maintain my point that a LLT offers better balanced performance for the dollar than a horn sub.
I wasn't really lacking output in the LLT. I had no problems getting 114db at the tuning freq (14hz). What I wasn't getting with the LLT was great chest pounding midbass. The THT not only digs lower in the same room in an unideal location none the less, it does it with less power and ALOT more authority. And because the driver doesn't have to work as hard the distortion is inherently lower. The sound from the horn is soooo much more smooth and natural sounding. If you have ever heard a good quality horn you know exactly what I am talking about.
I'd be interested in hearing from other LLT owners. Are they capable of moving the fabric on the back of their sofa's with a 20hz signwave from 15 feet away, this with only 29 watts? Personally, my LLT was never capable of that, not even slightly with 1000 watts.
There is nothing wrong my mic or the calibration, I've done many tests in different settings (home and car) with many arrays of different subwoofers. Keep in mind that that my media room has a concrete floor and half of the wall is cinderblock. It also has doubled up studs with 10" of insulation. Horn's also more efficiently take advantage of room gain and boundary loading; Loading it into the corner effectively extends the horn flare.
My unequalized measurements confirm what my ears and body felt with the THT.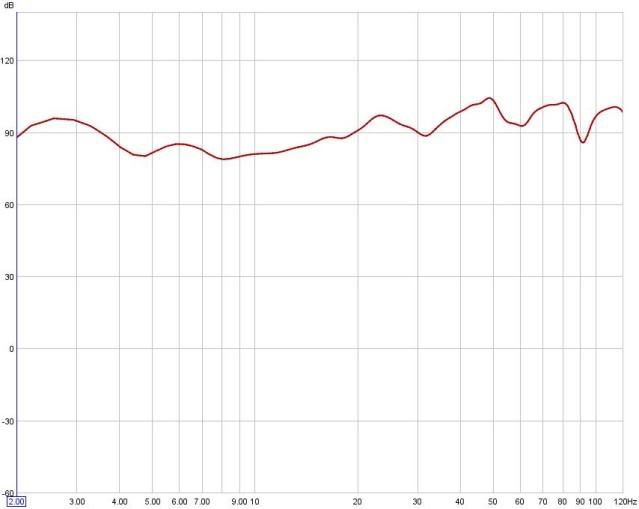 121db @ 22hz with only 10.8 volts or 29 watts! and Couch Moving:
Media Room Construction