Discussion Starter
•
#1
•
I have a toshiba TV that I have setup in the kid's room.
I like it because it has a built-in DVD player.
Around a year ago, I noticed that the TV would turn itself on and off occasionally. It became more and more frequent as time went on and now it does it all night (and I assume day) long.
When it happens the TV initiates (power light, fan, LCD screen) but its not the same as if you turned it on properly (by hand or remote). No video signal is displayed, no audio comes through and the buttons on the TV are completely unresponsive. The only way I can get the TV to turn off is do a hard reset by pressing the POWER button for 10 seconds. Then the TV reboots and all is well again until it starts the behavior again. It's getting out of hand because now the TV tends to stay ON for an extended period of TV which I bet is doing a number on my power bill.
I have unplugged the TV for days but this does not solve the problem.
I have disconnected all inputs but this does not help.
The TV does not turn itself off when it is being used for viewing or anything.
I have taken the back off and taken a look but nothing jumps out at me.
I have the service manual but it doesn't provide much help regarding this particular issue.
I am the second owner and it has been on the dresser or on the wall since I have owned it. I believe the TV may have been repaired at one time because some of the screwed on the back cover is missing and there is a large capacitor with a white cap on the PS that looks out of place.
Any ideas you guys have would be greatly appreciated.
BOARD LAYOUT
BACK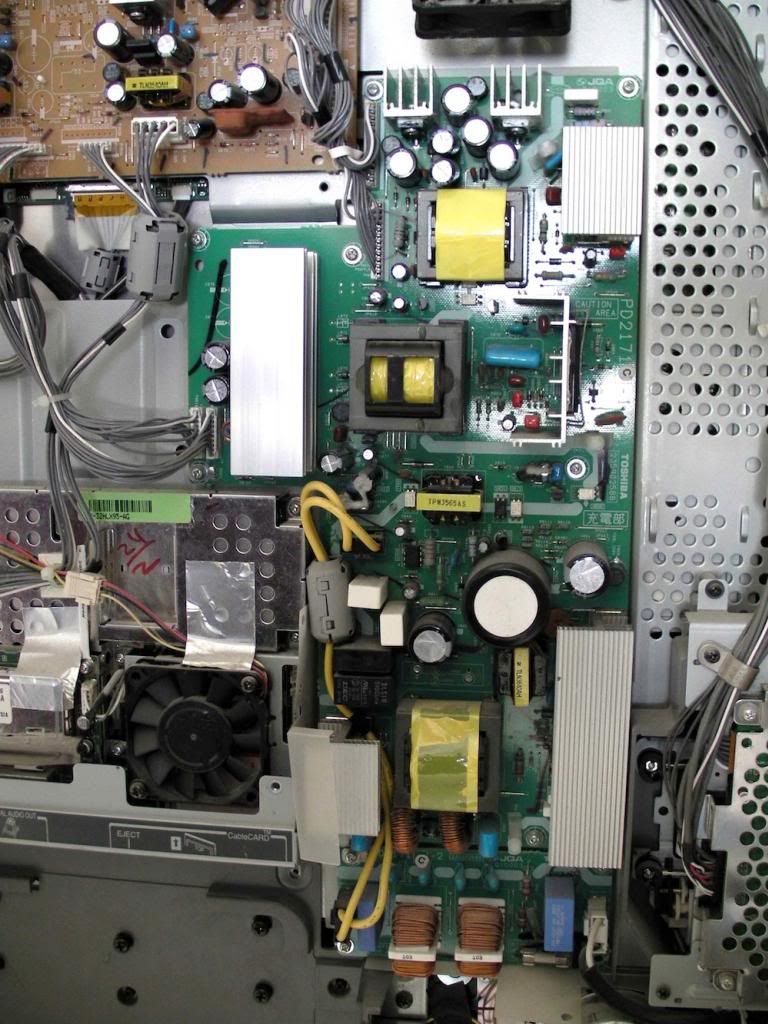 CLOSEUP OF POWER SUPPLY
KEY SW BOARD & LOW-B BOARD