OK so I like low end bass for movies but not all the way up to 80hz so from what I've read it sounds like a hard-knee house curve may do the trick for me.
So as I understand it the steps are
1) Play a 80hz sine wave and take note of the SPL reading - using sub + mains but not surround
2) Play a 30hz (or lower) sine wave and increase volume on AVR so perceived loudness is the same as that at 80hz and take note of SPL
3) The difference in SPL is used to create your house curve file.
4) Within REW, Settings, House Curve import text file.
5) Use filters to equalize your sub only measurement to the new house curve.
So I think I get all that (or do I :dunno: )
In my case SPL difference between 80hz and 30Hz was around 7-8db so that made things easy as I used the file from
Ayreonaut
.
So I've added the house curve and using an Average of the 6 positions I used for my Audyssey set up I get the following (without any filtering).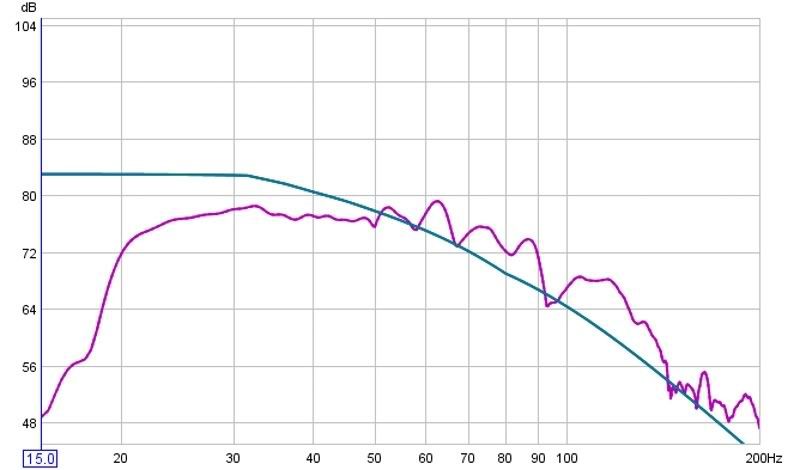 When I use REW to find and assign the filters between 20hz & 120hz I get.
Now my question is what do I do for the 20hz to 51.3hz range......is it OK to apply +ve gain in these areas, if yes how much (as these are not nulls)......or do I do something different?
[EDIT] My sub is a HSU STF 2 which I belive goes down to 25hz so not worth boosting anything below 25hx?
Thanks,
Mark