Its been discussed many times in different posts and it seems there is some confusion on the subject.
This post will help make this much clearer and hopefully with the input of others clear up the does and don'ts of proper connection to pro audio gear.
I do not want to make this sound confusing so I will spell this out in plain English without all the mumbo-jumbo.
Home consumer audio gear uses unbalanced analog audio connections that is designed for short distances and low cost. These connections are usually "rca" and have a shield and a single positive for the signal.
In the graph below you will see the signal (a sine wave in this case) and the shield connected to ground which means it has no signal on it.
A line level audio signal can be looked at as a low voltage signal and unbalanced audio signals are usually between 200mv and 1volt depending on weather it is a fixed or adjustable level.
Given this "lower" voltage signal, long distant runs are susceptible to interference and thus is only good for short runs of usually less than 20ft (50ft can be done if the cable is of better quality).
The problem with using home audio gear with professional audio gear is that the pro gear uses balanced input and output signals. Amps in particular either use a 1/4" Tip Ring Sleeve (TRS) connector
or an XLR connector
The audio signal used in these connectors is at a higher voltage ussually 1.5v and as seen in the graph below has twice the signal as an unbalanced signal.
There are two alternating signals -1.5v & +1.5v and the shield. The advantage of this connection is that when used for long distances the noise (interference) is not only canceled out by the alternating voltages but because its a higher signal voltage it can travel much longer distances without interference (as far as 1000ft) without a booster. The primary factor that allows longer connections with balanced lines has more to do with impedance than voltage. A balanced line has a low impedance (200 to 600 Ohms) while an unbalanced line typically has a 10k impedance or so.
Now here is the problem, when we try to use pro audio gear with balanced inputs connecting to the home audio equipment with unbalanced outputs you usually get incompatibility problems. These problems consisting of noise (usually 60Hz hum) or the signal coming into the pro gear being to low causing the noise floor to be raised when you boost the signal too much making the background hiss or hum to be amplified to the point that it becomes unusable sometimes referred to as signal to noise ratio.
On some amps or other pro gear you may have the ability to "short" the two connectors on the 1/4" TRS to make it a TS unbalanced input. The misconception of this option is that the voltage signal is also boosted but this is not normally the case and is still lower than what a balanced signal should have meaning that the amp at MAX on the level controls will not output the full amount of power it can. If your running this configuration and your amp levels are at MAX to achieve the levels you want I suspect that you have this problem as pro amps should not need to be run more than 75% of its max level control.
The fix to this issue is to use a line balancing transformer like the Samson S-Convert costing around $50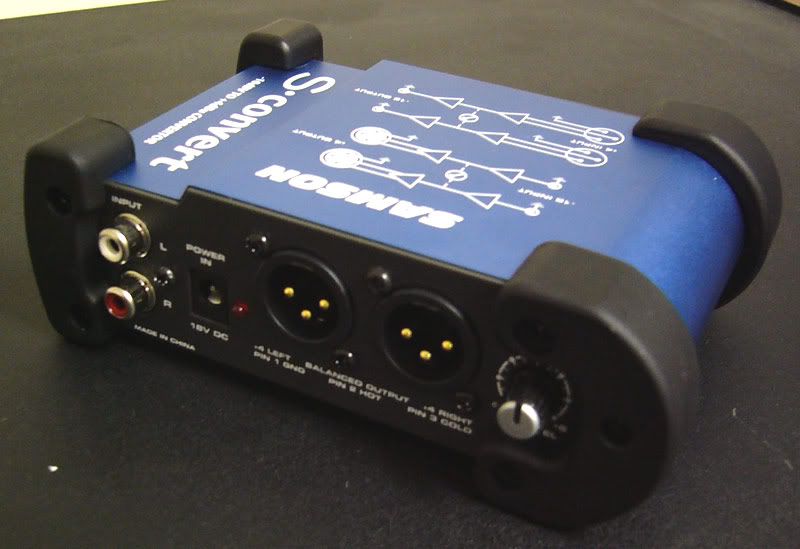 This properly takes the unbalanced signal and converts it to a balanced signal and raises the voltage. Adapters can be bought or made to go from XLR to 1/4" TRS as well as seen on the S-Convert there is only XLR outputs.
There are also several companies that make consumer grade high quality external amps that have proper unbalanced inputs so looking at that rout if your planning on getting an external amp can be a good option. The big plus to using some of the pro gear is that the price seems to be much lower per watts and can be found for under $300 new for two channel amps offering well over 200watts X2 like the Berhinger EP lineup.
Please feel free to comment in this thread and add more info.