Discussion Starter
·
#1
·
I recently bought a new HP laptop 17" (dv9730) that uses VISTA as its operating system. (I have finally retired my old K6-350MHz system
)
The on-board soundcard isn't suffice for the many requirements I have, so I needed an external USB soundcard that would serve multiple purposes.
The reasoning and required duties behind the purchase of this laptop are many. It will have a home in my HT systems' equipment rack, where it will be connected wireless to my back room office main computer for access to all my Pictures, MP3 Music and Documents.
Origonally, I had envisioned an Xbox 360 or PS3 for this job, but a laptop simply does so much more. Fairly hard to run REW on an Xbox, or travel to a hotel room and use a PS3 to access your e-mail..........
Anyway, I require a digital optical connection to my processor for playing music (both CD and MP3) using stereo PCM. I also require Dolby Digital 5.1 and DTS to be passed unaltered for the odd DVD movie I might stick in there before the disc finds a home in my jukebox.
The video from this laptop is HDMI up to 1080p. It happens to have an HD DVD player in it, but I don't really want it for that purpose. If I want 1080p, I'll get a blu-ray player. (I did try an HD-DVD disk and it is extremely good).
I also want to use the laptop for REW duties on my HT system, so any external soundcard that I consider needs analog line-out and line-in ports, and the ability to work properly with VISTA (32 bit).
There are occasions where I may want to record some digital data, so the external soundcard also needs an optical SPDIF input port.
And of course, if I plan to travel anywhere, I want to be able to unplug the HT cables and take the laptop off the shelf, and use the on-board audio.
My minimum requirements for the external USB soundcard were:
Line-in and Line-out analog.
Line-in and Line-out optical digital.
Must pass DTS and Dolby Digital AC-3 out the digital port.
Vista supported drivers (32 bit).
Small footprint.
Under $100 (and not from e-bay).
Must run REW properly.
Minimum 16 bit / 48K sampling ADC/DAC. I know a lot of people will say, why not 24 bit. Well, most of these 24 bit systems are that in name only. I'd much rather a 16 bit system done properly than a crummy 24 bit system (which many are I'm afraid).
You'd think this was a fairly easy shopping list, but not so.
There are lots of soundcards that output analog and digital, but not so many that will input the same for under $100 that are VISTA compatible.
Recently, it appears the Sound Blaster Live 24 bit external may be working with VISTA (not confirmed as yet). I was indeed considering it, but it is rather dated and I wanted something a bit smaller in its footprint.
The M-Audio Transit is nice, but it has a shared dual-purpose mic-in and line-in jack that has DC bias voltage present at all times, and this pegs the analog Radio Shack meter needle. I'm not fussed about having that DC there whenever I plug in a device, so I pass on that one.
The ADS RDX-150 seemed a possibility, but there were too many reports of low sound quality. I want good sound quality.
There were a few others that just didn't measure up for various reasons.
Anyway, the winner was the
Turtle Beach - Audio Advantage SRM
- USB external soundcard.
It meets all my requirements and works very well. It has a very small profile, great sound in analog and digital, great price, good web site support and works well with VISTA 32 bit. The PDF manual has sections for all the Windows operating system including VISTA. The VISTA driver loads and provides a nice control panel application that works very nicely with REW.
I made up a couple analog cables for it, using 3.5 mm stereo plugs with long audio cables feeding RCA plugs. The analog line-in and line-out jacks also accept (supplied) adapters that plug in and then accept digital optical cables. The adapters mate very well into the standard 3.5 mm jacks and the optical cable snaps in tightly.
Here's a picture of my new REW setup with the laptop and audio card plugged into it with the two line-in and line-out audio cables I made up. It shows the cards small size.
Here's a pic of the card and its profiles and plugs.
Loading the driver is typical. The software exe file is loaded
without
the card plugged in, then it asks you to plug it in and you continue the load. When finished you have to reboot and then the card is recognized by VISTA. The cards control panel application is accessed from the system tray icon.
I didn't bother with the supplied CD (they're usually full of unwanted software), and more often than not, the device web site always seems to have newer version drivers, I just went directly to the site and downloaded the latest driver which also includes the control panel software. It was located
here
at the bottom of the FAQ page and was called srm_vist.exe
The laptop normally has its on-board soundcard (by Conexant) in digital and analog showing in the VISTA Playback and Record mixer screens. When the USB card is plugged in, two new additional soundcard analog and digital outputs are available and three new inputs are available (the USB card also has a on-board stereo mic) as shown below. When you unplug the USB, the normal laptop playback and record on-board soundcards selections remain and the USB card selections are gone. So, it's easy to switch between on-board and external soundcard.
Here's the VISTA playback mixer with the USB card plugged in and analog selected.
Here's the VISTA recording mixer with the USB card plugged in and analog selected.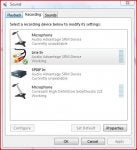 REW recognizes the card and is selectable in the REW settings page. The control of the input and output levels in REW (as it has no access to Vista levels) is easily done either through the VISTA Playback and Record Devices properties levels or through the USB soundcards Control panel software (the latter being the easiest and preferred method as shown below).
Below I show the Audio Advantage SRM USB soundcard Control panel and the interaction with the VISTA mixer / properties settings. I placed them side by side for easy viewing.
Here's the Playback adjustments on the Mixer panel.
Note in the Playback panel, that the microphone and line-in are shut off (just like in XP) and the line-out output control level is shown as Master volume.
Here's the Record adjustments on the Mixer panel.
Note in the Record panel that you select analog Line-in with a pull down, then there is a standard line-in volume control.
There's also a handy Pan control in case you are using the optional REW "Use Left Channel as Calibration Reference" and you want to balance the the two channels.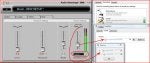 Here's what the REW settings panel looks like.
The card is selectable in the Settings Output and Input device pulldowns, and then you leave it in Default (as shown below) and adjust as I mention above.
Note that in the example below I'm using the optional "Use Left Channel as Calibration Reference" instead of the standard soundcard calibration file method, and so both the Input VU meters are operating. Alternatively, if the standard (and recommended) soundcard calibration file method is used, then only the right channel input VU meter will be operational.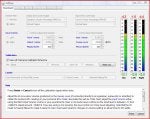 The Effects and Equalizer tabs have all the features disabled (of course) and on the Main screen tab (as shown below), the SPDIF digital output is shut off and stereo two speakers selected.
The Master volume slider shown is a clone of the one on the Playback adjustments on the Mixer panel.
You can see at the top of the Control panel jpgs where it says REW setup. This is a nice feature where you can save multiple sets of Control panel setups, so you can just load that config file the next time you use it. Kinda convenient. I made one for REW use, another for analog music, and digital stereo music, digital movie 5.1 output, etc.
The soundcard also passes DTS and Dolby digital, so it can be hooked to your receiver for DVD's etc. It also has headphone output and will encode 7.1 analog surround output for external speaker systems (not that I want to use those features, but they are there). All the cables come with the soundcard to hook all this up (except of course for the line-in and line-out cables needed for REW
).
I played with this soundcard in REW using the Left Channel calibrate and also the soundcard cal file method, and it performed fine (I prefer the soundcard cal file method myself as it offered a better signal to noise ratio and less cabling). The high frequency response (above 15KHz) isn't that great (although the low end response is amazing), but it's fine, especially for REW. (it's important to be sure the wireless on a laptop is turned off before doing a soundcard cal file creation).
Below is the soundcard cal file. You can see it's down about -3dB by about 17KHz and so doesn't do justice to the 20KHz region too well, but I have no problems with that since REW compensates to make the response flat, and also I will use the digital SPDIF output for listening to music etc. The analog connections will only serve REW.
OverClockers
did a review when the card was first released and they thought it was pretty good. I mention this because they claim in their tests that the card was only down -3dB at 19KHz.....
I have to agree with their conclusions, for the price, it's a pretty good soundcard that works with VISTA and REW. I paid $79.95
Anyway, I thought this might be useful info for those looking for VISTA compatible USB soundcards....
brucek