Married to the mob, Crawford style: 'The Damned Don't Cry
The Damned Don't Cry! combines Warner's standard gangster plot with the true story of Virginia Hill and Bugsy Siegel. A smash hit upon its release, is the story of Ethel Whitehead, a woman who following a family tragedy abandons her humble origins and climbs to the top of society ... one man at a time. According to the DVD cover, Ethel Whitehead is "as tempting as a cupcake and as tough as a 75-cent steak."
This is Joan at her best playing the lusty, crazy Dame, who will stop at nothing to get what she wants.
You cannot take your eyes off her while she is on screen. Absolutely gorgeous;
her check bones and eye brows are to die for. Nobody can play a role like this, like the
quintessential superstar star Joan Crawford during the movie industry's Golden Age.
Joan Crawford was known for her gorgeous legs. she was 47 in this film.

​
Faithful to the 1940's Warner Brothers film noir formula, this movie doesn't waste a minute of screen time ; a ride from beginning to end. The Damned Don't Cry is a superb film with one of the greatest performances of Crawford's magnificent career.
9/10
Joan Crawford, original name Lucille Fay LeSueur, (born March 23, 1904?, San Antonio, Texas, U.S.-died May 10, 1977, New York, New York), American motion-picture actress who made her initial impact as a vivacious Jazz Age flapper but later matured into a star of psychological melodramas.
Joan Crawford
in The Damned Don't Cry (1950)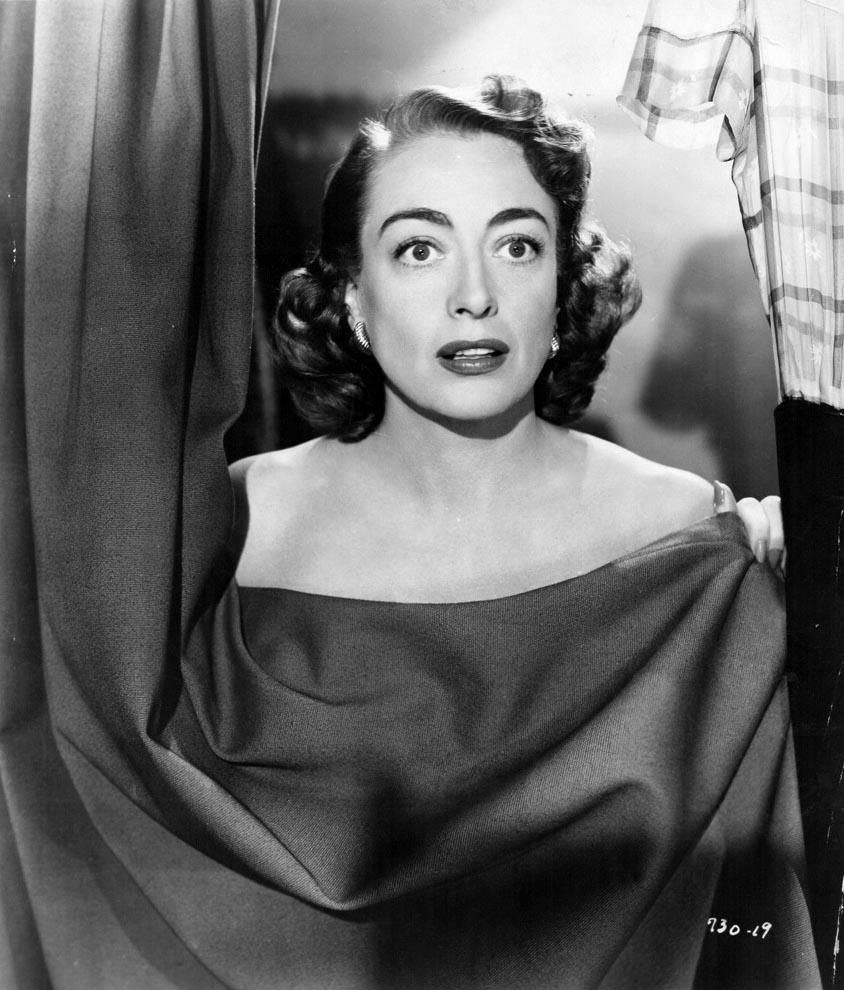 I love Joan Crawford despite the controversy after her death in 1977 by her ungrateful Daughter.
​
Daughter Dearest
The Aftermath Of Mommie Dearest
One of Joan Crawford's staunchest defenders against the claims of Christian Crawford was actually her biggest rival:
Bette Davis
. Joan Crawford was not Bette Davis's favorite person.
The famous rivalry was often capitalized on for classic movie roles, like What Ever Happened To Baby Jane?, which featured Crawford and Davis as bickering sisters. But even Davis, who "was not Miss Crawford's biggest fan," dismissed Christina Crawford's expose.
Davis
said that the book was "trash" and declared it was a "terrible, terrible thing" for Christina to have done. An abomination! To do something like that to someone who saved you from the orphanage, foster homes. What she did not deserve was that detestable book written by her daughter, horrible.
Douglas Fairbanks Jr.
, when asked by the press if he thought his former wife really hit her children, dismissed such a possibility in a tone of mock seriousness. "Of course not. It would not only have been out of character, but she only used covered, padded hangers." He added, "If you really want to know someone, you must see their emotions off guard. That's how I know Joan Crawford could never have been cruel to her children. I really knew her, when she was still Billie, as she liked to be called in the early days. In a relationship as close as ours, I had the chance to see her in every kind of personal situation. She was never out of control. The most she was guilty of ever was a few sharp words, and not many of those. We had our rows, but she never showed any sudden bursts of temper."
"What bothers me,"
Myrna Loy
said, "is that there were book buyers who bought that book and read it and people who believed it. What perplexes me and makes me profoundly sad was that people wanted to spend their money that way, on such trash, and, worse yet, believed it. The readers who believed it were the ones who did the damage."
It wasn't only other Hollywood stars who came to Joan's defense, but also her other children.

Catherine
and
Cynthia
,
Joan's adopted twin daughters
, were heartbroken about their adopted sister's portrayal of their mother. Catherine stated that Christina "lived in her own reality" and that "Our Mommie was the best mother anyone ever had.
​