Discussion Starter
·
#361
·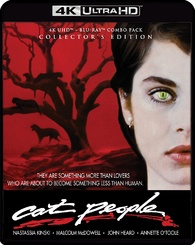 Cat People 4K Blu-ray Release Date June 28, 2022. Blu-ray reviews, news, specs, ratings, screenshots. Cheap Blu-ray movies and deals.
www.blu-ray.com
Pre-Order alert
! for the horror aficionado
4K ULTRA HD Blu-Ray

​
Resolution: Native 4K (2160p)
HDR:
Dolby Vision,
HDR10
Aspect ratio: 1.85:1
Original aspect ratio: 1.85:1
Audio
English: DTS-HD Master Audio 5.1 (48kHz, 24-bit)
English: DTS-HD Master Audio 2.0 (48kHz, 24-bit)
​
A young woman's sexual awakening brings horror when she discovers her urges transform her into a monstrous black leopard.
Director:
Paul Schrader
Writers:
DeWitt Bodeen
(story),
Alan Ormsby
(screenplay)
Stars:
Nastassja Kinski
,
Malcolm McDowell
,
John Heard
,
Annette O'Toole
This is a fabulously strange and weird piece of cinema .
The casting of the exotic and otherworldly beauty of
Nastassia Kinski
could not have been bettered, and the rest of the cast is excellent as well .
Annette O'Toole
is also extraordinarily beautiful . Her character plays juxtaposition wonderfully against Kinski.
Malcolm McDowell
is his usual oddly wonderful creepy self. The theme song (Putting Out Fire) written and performed by
David Bowie
is a classic. Both the score and the incidental songs, are just as good. Most of it is an eerie, synthesized score by
Giorgio Moroder.
One must not forget the
fierce and regal black leopard.
What an amazingly stupendous specimen. The big cat really adds to the film.
Annette O'Toole
Director of Photography
John Bailey
shoots those wonderfully atmospheric New Orleans locations to perfection, and the whole film has a sensual vibe that is both unsettling and alluring. Sex and death have made for odd bedfellows since since "
Moby Dick was a minnow
" , and have been subjects for the arts (horror especially) for about as long.
There's an intriguing, surreal story here,
and great performances from a seemingly odd combination of actors. I think this film is presented as thematically tantalizing as I've seen in an 80's flick.
Cat People is surreal somewhat underappreciated work of horror cinema .
Nastassia Kinski