Discussion Starter
·
#1
·
Being the owner of a 160 plus year old Victorian I don't think I have a flat smooth wall in the house, but maybe this can give people some ideas on how to deal with walls that aren't very smooth. Visually as a wall, they are fine. For a screen though you will want the surface as flat and smooth as possible. Bumps and low areas will show up during bright scenes that pan across the screen, and trust me you will notice them... and it is as irritating as the waves people complain about with non-tab-tensioned manual and electric screens.
The first picture is of the wall where the screen will be. The paint has been removed and the several layers of wallpaper. What you see left is the wall paper print transferred to the actual wall. This will give you a good idea of what I was dealing with though when it comes to lathe and plaster walls in an old house. Sheetrock would be fine to paint on, plaster cracks over the years as you can see. Structurally everything is fine, this is just what you see in an old house when you take the wallpaper down is all.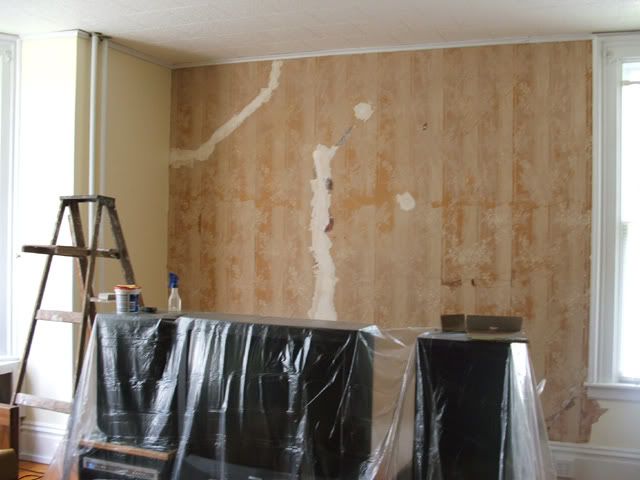 This is a shot from the adjacent room. Mainly I took this one to show the amount of light that pours in. At night it is definitely dark though.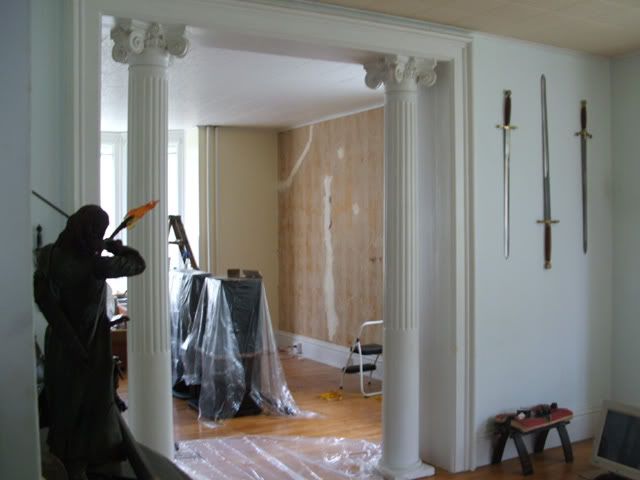 I couldn't find a substrate in the size I wanted for a screen. Also I test numerous types of screens, so I didn't want something hard to put up or expensive for this project. What I did was to use Liner paper to cover the plaster wall once I stripped the wall paper. Liner paper is normally used to cover paneling, cinder blocks, or any rough surface before putting up wall paper or painting. It doesn't have the fancy decorative patterns like the paintable wall paper most have probably seen, but it is also much cheaper. A roll 26" by 30' is around $8. It is relatively thick, but easy to work with. The thickness helps cover and smooth out rough or imperfect surfaces, but you will need to do a little more than just put it up.
First it isn't pre-glued, which isn't awful but you'll have to get wallpaper paste and any old brush will do. I used a 3" brush. What I did was shoot a blank blue screen image from the projector on the wall. I adjusted it for a 52x92 image size and marked it off. Paste the liner paper and then put the two pieces up, but you will need two people to do this. You can use a wall paper squeegee, but I used a 3' level to drag it across the paper to get any air bubble out. Now... let it dry before even thinking about painting.
There will be a seam between the two 26" strips, so you'll have to put some mud up. I used the kind that goes on red and dries white. The trick is not to put it on too thick. When it dries use a sponge sanding block to feather out the edges. You'll know when it's done when you run your fingers over the area and you can't tell where the paper and mud start and stop.
This is what it looked like at this point before the mud on the seam dried.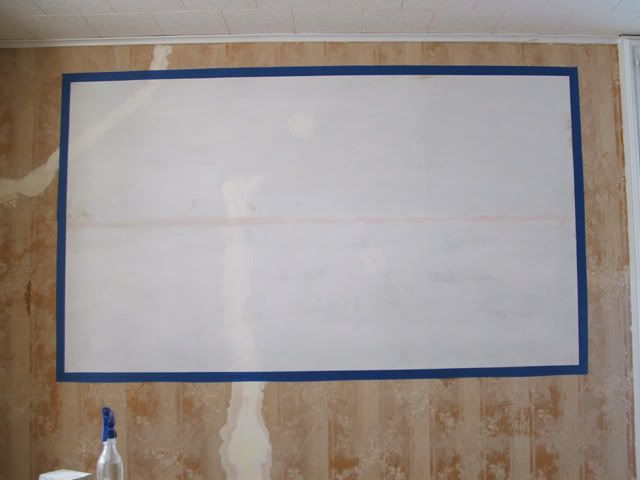 You can see from the picture that the paper may be stiff and fairly thick but it is still pretty transparent​
.
...and an angled shot...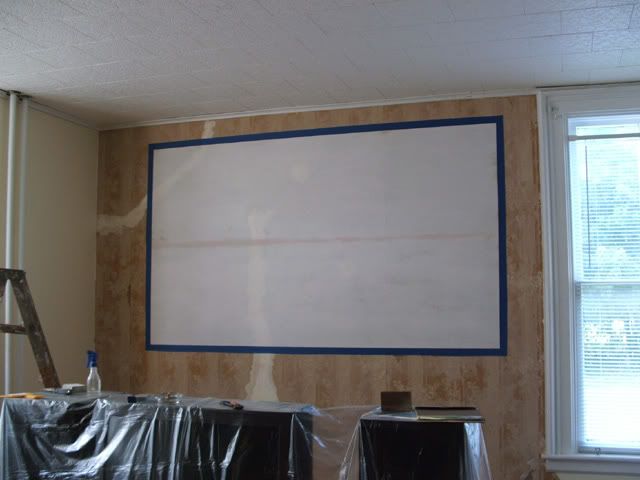 Once I got the seam smoothed out I primed the 'screen' with Kilz2. This allowed me to see any imperfections and high/low spots better. I then used some pre-mixed drywall mud and a 12" trowel to skim all the low spots. I used the sanding block on the fine side. It makes a mess and lots of 'dust' so cover things up. When you are done though you will have a nice flat and smooth surface to paint. It sounds like a lot of work but it really isn't. Most of the time is waiting for the mud to dry. Start to ready to paint, it took me two evenings. I didn't use heaters and I just let it dry while I watched movies on my HDTV upstairs
Here is a shot before any paint and with the Samsung logo screen up.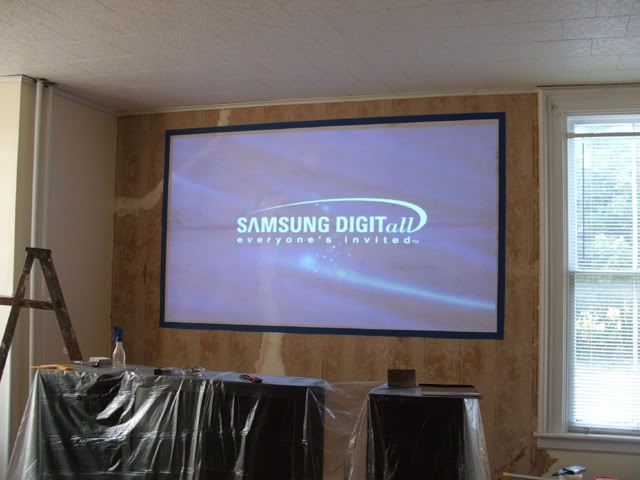 After the skim coat is sanded prime and put up any paint application you prefer.
I use this as my test screen for painted screens. This is the screen after the skim coat was sanding and it was primed and ready to be painted..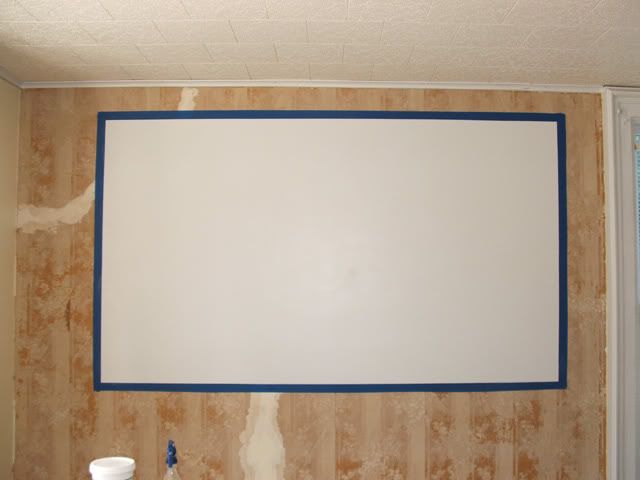 After the first coat of Sherwin William's Gray Screen SW7071.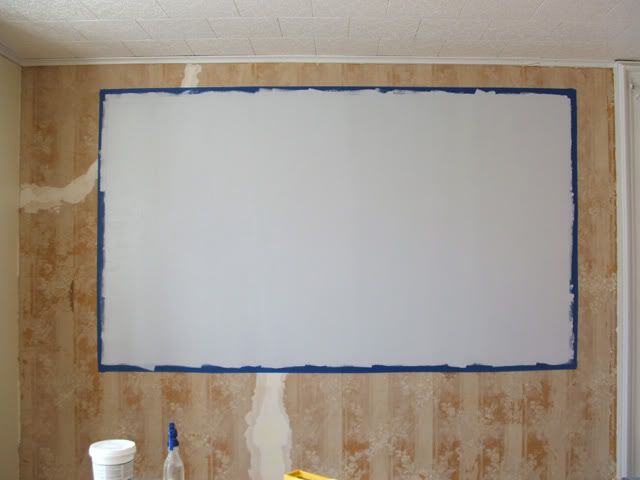 Of course the surrounding wall looks awful in these shots. As I mentioned, what looks like wallpaper still on the wall is actually the print from the wallpaper that bled through to the plaster. (There were three layers of wallpaper and at least three layers of paint on the wall.)
My test screen dressed out with a black suede border trim and the wall finished with a decorative/textured paintable wallpaper and ready for painting. Total time from start to finish a week and a half.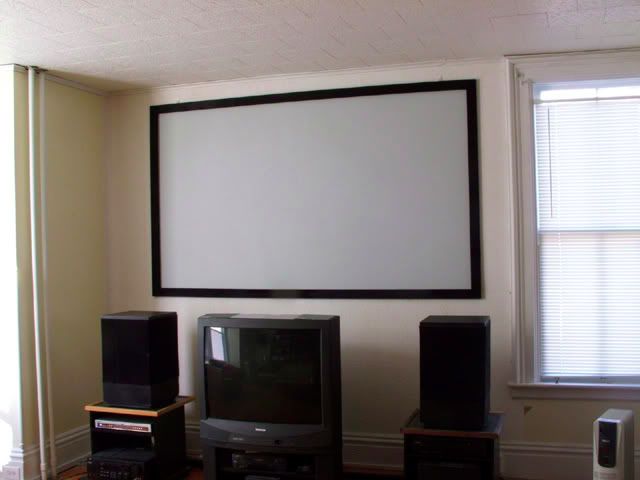 Calibration stage for my test screen...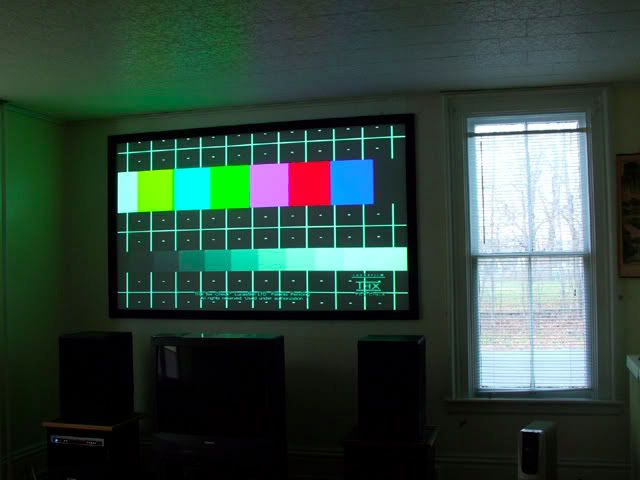 Some images after the second coat was fully dry and the test screen was trimmed and dressed out... on axis and off...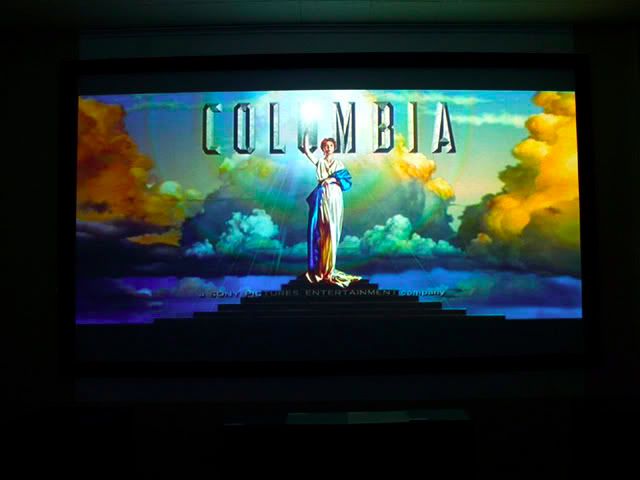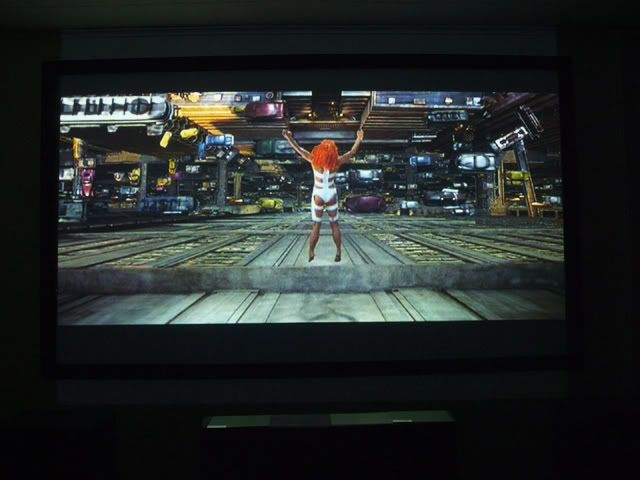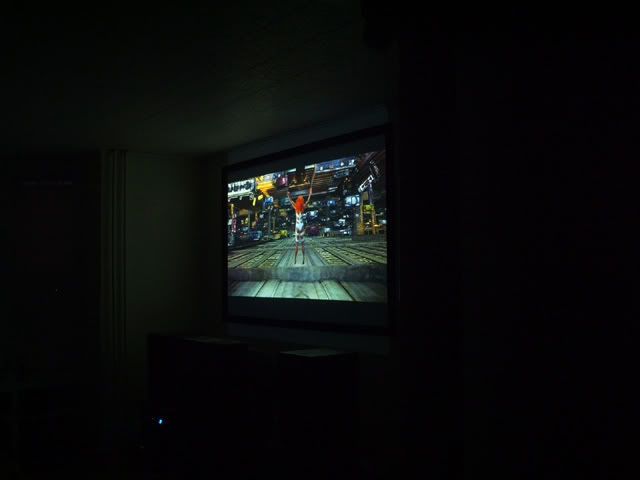 ​
Now...Painting...
If you go this route, the liner paper could bubble in areas for the first couple of coats. When I say bubble, I mean scary bubbles that you may be inclined to try to flatten and 'work' out. Let them go. As the paint dries it contracts and it will flatten out. I have seen this with the paintable wall covering as well as liner paper. If you freak and try to flatten it, you will only make things worse or ruin the paint finish... so give it a good 24 hours and you'll be surprised at how the bubbles go away...
Hopefully this may have given some people a few ideas... it may not be the way you go or were even thinking of going, but for those that have older houses this worked like a charm for me and really wasn't as hard to do as it may sound... it does though take time.
I have also had a fixed frame DW screen up as well as several other painted screen. The method I descibed above has served me well as far as a very nice test screen platform... for most it would be a nice permanant screen platform.